On behalf of the JTA Co-op Credit Union Ltd. I wish to take this opportunity to express heartfelt appreciation to all of you our valued members who allowed us to serve you throughout 2022.
This is the time of the year that people usually reflect with their family and friends on the months that have passed, and for the JTA Co-op Credit Union this is no different. As we reflect on the year that is coming to an end we would like to invite you to allow us to share some of the activities that we completed over the past few months.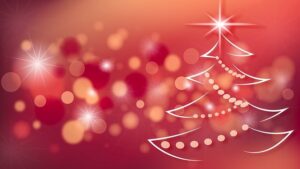 Wishing you the best for 2023
During 2022 the COVID-19 pandemic began to calm down significantly and we were able to return to normality for many activities. It was a great relief to us at the Credit Union to be able to meet with you our members face-to-face for our Annual General Meeting. We were happy to hear from you and to share with you what has been happening with your organization. Despite the challenges of 2022 we were able to pay a dividend of 4% to all our members. We take great pride in being able to offer this sort of return to our members because we take very seriously our motto to serve our members and impact their live positively.
Our Annual General meeting and the dividend payment are not the only activities that we held true to during 2022. We continued our programmes that greatly benefit our teachers namely the PEP Bursary which was awarded to PEP students whose parents are members of the Credit Union. We also awarded two schools with grants totaling $1.5M to complete well deserving projects at the institutions. Besides that we contributed even more to several schools and community groups across the island. Additionally, your Credit Union was able to carry on the decades old annual Tertiary Scholarship programme, where we award members who are scholars in their final year of study. It was with great humility and joy that we were able to expand this scholarship and add a new category named for one of our founding members, the WA Johnson awards. This category is second in prestige to the DC Gascoigne awards and was awarded to the member with the second most outstanding application.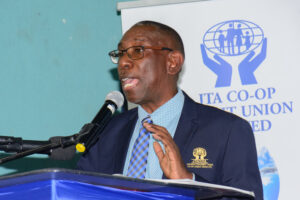 Your General Manager speaking at the 2022 AGM
Besides giving back as much as we could we improved our service delivery to you. In 2022 we expanded our online payment capabilities, what do I mean by that? Previously members were only able to make payments to their accounts directly from our website using their credit cards. Now they can use their debt cards as well. So, all our members who want to make payments to their account without coming into our offices can do so using our website and make the deposit using either their debit or credit card.  Another initiative that we were able to complete during 2022 was the implementation of the new debit Mastercard. This was a long time in coming but finally we are where we want to be at this time.  Our members can now access and use their new Mastercard. This card is safe and secure with international backing, it has all the features of the previous easi access card but far more capabilities. It allows our members to shop online, to shop overseas, if they are travelling, and it comes with a  devoted hotline that members can call if they experience any difficulties. Please bear in mind that the Mastercard is attached to your Easi Access savings account not your shares, so you will have to a allocate a specified amount of money that you wish to save in this account each month. If you have not yet done so I am encouraging you to visit your nearest JTA Credit Union office and collect your new debit Mastercard.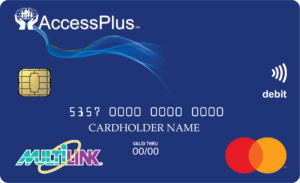 Members of the JTA Co-op Credit Union can now enjoy the uses of the safe and secure debit Mastercard.
So, as we wrap 2022 now is a good time to ask, what can we expect in 2023? In the new year to come the Credit Union will carryon all our activities that we engaged in during 2022 that were of benefit to our members. We will continue to explore and implement ways that our members can interact and do business with us in more efficient and effective ways. We will also be implementing even more programmes that will recognize and honour our members. We have big plans for you in 2023 and are very excited to unveil them in the coming months.
Finally, I would like to take this opportunity to remind all to be careful when spending during the holidays. Please take all the necessary precautions so that you will not become a victim of thief. Also, I encourage you to still make your monthly budgets and try as best as possible to stick to them. Remember that with all the euphoria of the season the bills and expenses will have to be paid in January. Additionally, I urge you to please, take some time amidst the noise of the festive season to quietly reflect on the true meaning of Christmas and remember the greatest gift that one can give is love.
On behalf of the Management, staff and volunteers of the J.T.A Co-op Credit Union Ltd; I would like to thank all our members for their loyal support during 2022 and for allowing us to serve you. We anticipate working with you in the coming new year and beyond.
I wish for you and your loved ones a peaceful and holy Christmas and God's richest blessings for the New Year.