Will you help to Shape a Better Society?
"Every sunrise is an invitation for us to arise and brighten someone's day." (Richelle E. Goodrich, Smile Anyway)
For us at the JTA Co-op Credit Union, each day is an invitation to brighten the lives of our members not just through sound financial offerings, but by supporting the enhancement and development of the nation's future leaders and those who help to shape their lives. This we have proudly been doing for 60 years. It is without question that the JTA Co-op Credit Union Ltd. is a beacon in the Jamaican financial landscape. This achievement, I believe, rests partially on our commitment to donate to the many causes and initiatives put forward by our members.
Over the years the JTA Co-op Credit Union has donated to activities including sports days, Teachers' Day events, health, wellness, career fairs and many other developmental and fundraising activities. Financial support has also been extended to our teachers through the sponsorship of various JTA District Association events including fun days and awards ceremonies. We have also supported national events designed to nurture and reward the best and brightest of our young scholars including The Gleaner Children's Own Spelling Bee competition and TVJ's Junior Schools' Challenge Quiz. For 2018 alone, our donations surpassed $5M underscoring our value proposition to you anchored on service and making a positive impact on your lives and your school communities.
Continuing in the tradition of service to you, in 2018 we launched the Better Schools, Better Jamaica initiative. This programme created a definitive space whereby schools across the island would have the opportunity to submit proposals for the funding of major school-wide projects that would have a significant impact on the student population. Emphasis was placed on projects that would positively impact the learning experiences of students while at the same time enhancing the ability of teacher's to deliver the best quality education to each student. The response was overwhelming and each application worthy of monetary support. However only 2 schools emerged as winners, Old Harbour Primary and Glengoffe High both institutions were awarded a total $1.5M – $1M to first place winner Old Harbour Primary School and $500,000 to Glengoffe High.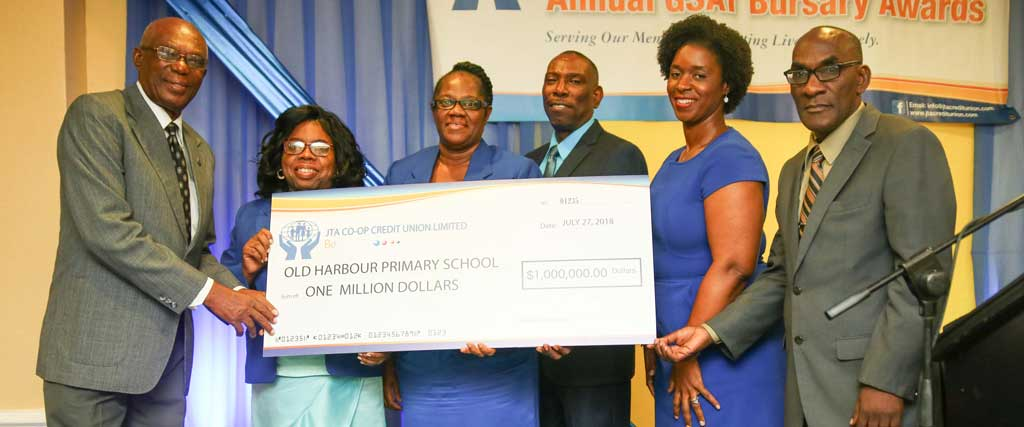 The Better Schools, Better Jamaica programme creates another opportunity for your credit union to deliver on its commitment to being a financial institution that cares for and supports its members to be their best. We believe that it is important to provide quality education to all and to offer this in an atmosphere that fosters interest, rewards achievements and values care and concern for our environments and for those who will utilize these spaces after us.
I encourage all our members to get your schools involved in the Better Schools, Better Jamaica initiative and submit your proposals no later than Tuesday, April 30, 2019. If you want to know how to apply for funding under this programme please contact your local JTA Credit union branch office or email your requests for information to dwalker@jtacreditunion.com or tfraser@jtacreditunion.com.
Together we can shape a better society.